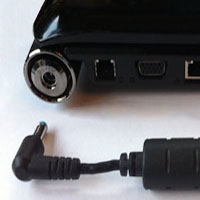 Laptop / notebook Mainboard Power Jack problems
Motherboard Power Jack failure symptoms:
You have to wiggle the power cable in order to catch the connection
Your Laptop / Notebook battery doesn't charge anymore
When you plug your power cable in laptop the connection feels loose
You can hear 'popping' and 'scratching' noises from the back of your laptop
Why it happens:
Power connector can fail because of age, bad design or damaged by accident: falling, tripping over a wire, etc. If the DC-IN power connector is no longer connected to the motherboard, the power adaptor can no longer supply power to the laptop, so the battery supplies power until it dies.
What we do:
We service laptops with bad/broken DC power connectors by fixing (when possible) or replacing them. This is much cheaper than replacing the laptop's mainboard (manufacturers way). When the DC power jack is loose, the most important step is to stop wiggling it and get it fixed as soon as possible. Why? — laptop / notebook consumes lots of power when turned on (from 3.5Amps up to 7.3Amps), if the DC power connector is loose under these conditions motherboard gets damaged more and more, then making it impossible to fix in some cases.
How much:
We will let you know exact pricing before starting any repairs or services and verification is free. From our experience power jack (connector) repair starts from $39 - includes parts and service. Average turaround time is 1-2 days as we have all parts in-stock. In some cases of hard to get laptop parts price may be higher. You might have to pay shipping of laptop to us - mostly it's around $20.
All other Laptop Motherboard failures:
Motherboard failure symptoms:
Laptop shows no activity when you try to turn it on System crashes any strange system behaviour Intermittent 'no reason' system shut down Unrecognised hard drives and other devices
Why it happens:
This type of faulty behaviour can be caused by failure of a simple resistor or a major component. It is very difficult to diagnose mainboard failures as all components there are very small. BIOS (basic input-output system) software can be corrupted and this also can cause the problem. There are very many power circuits on every board of your laptop and failure of even single one of those can also result in a broken motherboard.
What we do:
Motherboard problems are very difficult to diagnose and repair. Every year laptops become smaller, lighter and more powerfull - this can be done only by using smallest electronic components available. Some smallest components like diods, resistors, capacitors are barely visible to the naked eye. On top of that every board is multilayer (6-14 layers in 1 mm thing board ) in fact it is a sandwich ofmillions of components. That is why it is very difficult to diagnose what causes the problem. However at NewWest Laptop we can diagnose and fix the problem on the laptop motherboards.
How much:
Unfortunately it is impossible to estimate the cost of the motherboard repair before detailed verification. We will let you know exact pricing before starting any repairs or services and verification is free. Motherboard repairs price start from $45 including parts and service.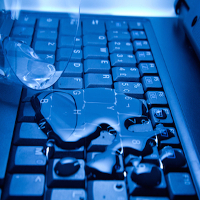 Water / Liquid Damaged Laptops / Notebooks:
What we're proud of:
What most companies can offer you in case your laptop damaged by liquid? — 'Do not try to turn on your Laptop and bring it to us and we will try to dry it for you for hundred bucks' — they say. If it's just water then sometimes it works but most often — does not. But how about cup of sweet tea or a glass of wine or, maybe, a full big glass of orange juce? We've seen it all before and yes — we've fixed it, at NewWest Laptop we've got something in our pocket for this kind of laptop problem.Our solution is much more complex and complicated than simply drying but it works way better.
How much:
It is not very cheap as this kind of repair involves many procedures and plenty of time. We will let you know exact pricing before starting any repair. Price starts from $90 including parts and service.